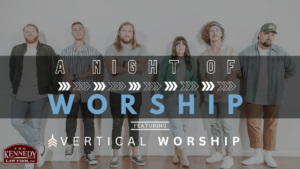 Join us on September 24 at 6:00 pm to welcome Vertical Worship to Downtown Commons! Their songs include the powerful song and radio hit "Yes I Will," as well as popular worship songs "Faithful Now," "Spirit of the Living God." This concert is sponsored by The Kennedy Law Firm. To learn more about Vertical Worship, please visit their website here:
Vertical Worship (verticalofficial.com)
Please bring your own chairs and blankets. Outside smoking/vaping will not be allowed on-site. This concert is free and open to the public.